Venice Travel Guide
Are you thinking of visiting Venice? If you are, then you will probably want to discover more about this fascinating city before your holiday. In our opinion, Venice and Rome are the two most magnificent cities in Italy and are well worth visiting, whether it be for a weekend break or a longer holiday, and this is why we have written this up to date travel guide of one of our preferred cities.
If you like our travel guide, don't forget to add it to your Favorites.
What is Venice?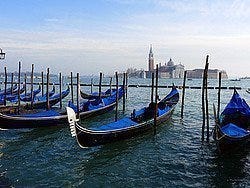 Venice and its gondolas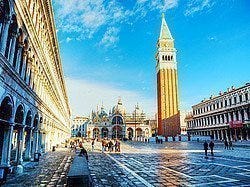 Piazza San Marco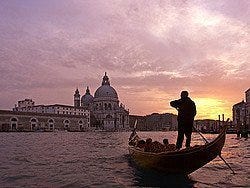 Gondola in the Grand Canal at dusk
Venice is made up of 119 islands connected to one another by various bridges and overpasses. The Ponte della Libertà connects Mestre to Venice in Piazzale Roma.
The city, also known as La Dominante, has suffered from regular floodings since it was founded. Currently, this phenomenon called Acqua Alta still occurs several times a year and is a serious problem for the city. 
Between autumn and spring, the level of the Adriatic Sea rises and causes flooding of Venice, especially of Piazza San Marco. The peaks are sometimes so high that the authorities have to place wooden planks to help the pedestrians.
If you would like to discover more about Venice, we suggest reading our articles on its six neighborhoods, its top attractions and its history.
Why visit Venice?
In our opinion Venice is an extraordinary destination and we can think of numerous reasons to visit this magical city.
But if we were to give just one reason, it would be that Venice is unique and completely different from any other city in the world. A place that welcomes and captures the hearts of all those that visit it.
Looking for accommodation?
If you haven't booked your hotel yet, we recommend visiting our search engine, where you will find all types of hostels, serviced apartments and hotels with the best rates guaranteed. If you book in advance, you can get up to a 75% discount and pay once you get to your hotel.
Our Venice Travel Guide
This travel guide has been written by travelers like yourself, is straight forward and includes money-saving tips to make the most of your stay in Venice.
The information provided in this guide has been updated in November 2016. If you find a mistake or would like to make a suggestion, please do not hesitate to contact us.
Are you thinking of visiting other parts of Italy?
If you are exploring Italy and want to visit other cities in the country, check out our travel guides of Rome, Milan and Florence.