The Chorus Pass is a tourist card, which is perfect for those that want to save money on tickets to Venice's historic churches.
The Venice Chorus Pass (Chorus Venezia) is the perfect tourist card for those that are interested in visiting several of Venice's churches. It offers free access to eighteen religious buildings.
Churches included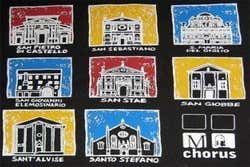 Chorus Pass
Church of Santa Maria del Giglio
Church of Santo Stefano
Church of Santa Maria Formosa
Church of Santa Maria dei Miracoli
Church of San Giovanni Elemosinario
Church of San Polo
Church of San Giacomo dall'Orio
Church of San Stae
Church of Sant'Alvise
Basilica of San Pietro di Castello
Church of the Santissimo Redentore
Church of Santa Maria del Rosario
Church of San Sebastiano
Church of San Giobbe
Church of San Giuseppe di Castello
Church of San Vidal
Church of San Giacomo di Rialto
Price
Adults: € 12 (

US$

13.10)
Students (aged less than 29): € 8 (

US$

8.70)
Family Card: Two adults and two children (aged less than 18): € 24 (

US$

26.10)
Where to purchase?
The card can be purchased in any of the tourist offices in Venice or in any of the 18 churches included in the Pass. You can also buy them online on the following websites: Chorus Venezia and Venezia Unica.
Is it worth buying the Venice Chorus Pass?
The Chorus Venezia is worthwhile depending on the churches you are planning to visit during your stay in Venice. Without the Pass, any of the above churches costs €3 to visit, so if you are interested in discovering at least five churches, it is a good idea to purchase it (especially for students).