Santa Croce is one of the least touristic areas of Venice, whose eastern part is the only one where cars are allowed.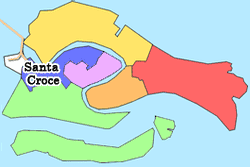 Santa Croce District
Santa Croce is located on the north-west part of Venice. Curiously, it is the only neighbourhood in Venice where cars can travel. If you get to Venice by plane, Santa Croce is the first district you will see as it houses Piazzale Roma, the large square where the central bus station is. Several buses a day connect Venice Marco Polo Airport and Treviso Airport with Piazzale Roma.
The most important landmarks are in the district's eastern part, although you will also find some interesting things to see in the centre. These two areas in Santa Croce have charming winding streets and are worth exploring. However, we do not recommend visiting the west part of the district, as it is very industrialized and has very little to see.
The least touristy sestiere
The artificial island Tronchetto is to the west of Santa Croce. It was built specifically as a parking lot for both tourists and locals to leave their cars while they are in Venice.
Although Santa Croce is one of the less interesting parts of Venice, it does include several small and pretty churches like San Giacomo dell'Orio, San Nicola de Tolentino, San Simeon Grando or San Stae and the eastern and central parts of this Venetian neighbourhood house numerous things to see.