Ca' d'Oro is one of the most striking buildings along the Grand Canal, with the Giorgio Franchetti museum inside.
Ca' d'Oro is one of the most spectacular palaces in Venice. It has a breath-taking façade with remarkable external decoration and sits on the banks of the Grand Canal.
The palazzo was built mid-fifteenth century in a mix of Gothic and Renaissance style. The building was known as the Ca' d'Oro, which means "House of Gold" in English. It was called this because the building's exterior walls were once covered in gold leaf. Currently, the gold leaf has all faded away, but the building's marble still glistens in the sunlight.
Nowadays, the Palazzo Ca' d'Oro houses the Galleria Giorgio Franchetti alla Ca' d'Oro, an art museum with a small but impressive art collection. The collection began with the Baron Giorgio Franchetti's collection of works of art from all over the world at the end of the nineteenth century. The museum's collection has grown since it was taken over by the Italian state in 1916.
Is it worthwhile visiting?
The palazzo's most striking aspect is its façade overlooking the Grand Canal. The museum is recommendable for those that have already visited the Gallerie dell'Accademia and Ca' Rezzonico, and would like to discover more of the city's art museums.
One advantage of going to see Ca' d'Oro is that you can purchase the combined ticket to visit the Gallerie dell'Accademia and Ca' Pesaro, and it is relatively cheap.
For more information, you can check out Ca' d'Oro's official webpage: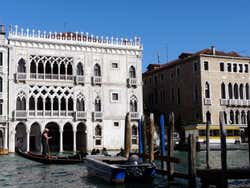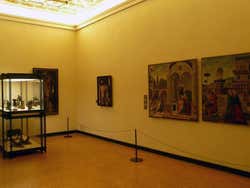 Schedule
Monday – Saturday: 8:15 am to 7 pm (Monday until 2 pm).
Sundays and public holidays: 9am to 7 pm.
Closed 1 January, 1 May, 25 December
Price
Adults: € 10 (US$ 10.70)
EU citizens (aged 18 – 25): € 5.50 (US$ 5.90)
Under 18s and over 65s: free entrance
First Sunday of every month: free entry
Transport
Water Bus: Ca' d'Oro, lines 1 and N.