Torcello once had the largest population in the Venetian Republic, with more than 20,000 inhabitants, now little more than a legend...
Torcello was once the most important and populated island in the Venetian Lagoon, with over 20,000 residents. The population that lived on the mainland fled to the marshy islands when the people of Lombardy and the Hun invaded the north of Italy. It remained great for approximately one century and then was hit by an outbreak of malaria that decimated the population and the power was moved to Venice.
Visiting Torcello
Arriving in Torcello will remind you of the first scenes of The Godfather Part II (for those that have seen the film): a very rural and declining scenery, with a few souvenir shops that liven up the area. It's truly like going back in time.
One of the highlights of Torcello is Attila's Throne, which is an ancient chair made of stone. It's located in the main square of the town and it's believed that this chair was used by Attila, King of the Huns.
Torcello Cathedral
The Cathedral of Santa Maria Assunta is the oldest building in the Venetian Lagoon. Its interior has remarkable Byzantine mosaics from the twelfth and thirteenth centuries. This impressive temple was founded in 639 and it still preserves a ninth-century portico with arches.
If you want to get a good view of the Lagoon and maybe take a few photos of the landscape, we suggest climbing to the top of the bell tower. You can also visit the Museum of the Basilica.
Next to the Basilica is the Santa Fosca church, surrounded by a pentagonal portico.
Getting to Torcello
These are the easiest ways to get to Torcello from Venice:
Public transport: The LN Water Bus line runs from Fondamenta Nuovo or San Zaccaria to Torcello and the journey takes approximately 50 minutes. It takes 5 minutes if you take a Vaporetto from Burano.
English-speaking guided tour: For just € 30 (

US$

32) per person, you can book an English-speaking guided tour to Murano, Burano, and Torcello.
An essential visit
Torcello is 5 minutes away from Burano, thus we recommend visiting both on the same day and if you have enough time, exploring Murano is also a great experience.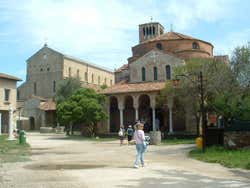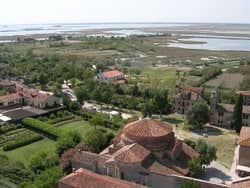 Transport
Take a Vaporetto from Fondamenta Nuove or San Zaccaria. Line LN.