Museo Correr in Venice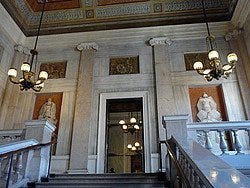 Entrance to the Museo Correr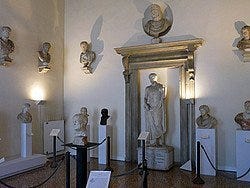 National Archaeological Museum of Venice
The Museo Correr is one of the most renowned museums in Venice. It contains a collection of paintings, sculptures, antiques, navigation instruments and many other interesting items.
The entrance ticket to the Museo Correr is also valid for the National Archaeological Museum of Venezia and the Marciana National Library. The three museums are connected to each other and can be visited one after the other.  
Below is a small description of each of the parts included in the entrance fee:
Museo Correr
Out of the three, Museo Correr is the most popular. The museum houses objects and works of art that reflect the Venetian culture, history and art from its foundation until the unification of Italy in the nineteenth century. Each item contained in the collection reflects extremely well each turning point in the history of Venice.  
National Archaeological Museum
This museum features a large amount of sculptures made of marble, bronze and raw materials.
Marciana National Library
The library only has two halls that are open to the general public. The main hall is decorated by Veronese, Titian and Tintoretto.
Location
Piazza San Marco
When to visit
1 November - 31 March: 9 am until 5 pm
1 April – 31 October: 9 am until 7 pm

Fares
Adults: 19€
Students (aged 15 – 25) and Seniors (over 65): 12€
Rolling Venice Card: 10€
The entrance ticket includes the museums of Piazza San Marcos: The Doge's Palace, Museo Correr, National Archaeological Museum and the Biblioteca Nazionale Marciana.

Transport
Water Bus: Vallaresso or San Marco, lines 1, 2 and N.
Map
Hotels nearby