Alilaguna
Alilaguna's water buses are a unique and particular way of getting to the heart of Venice from the Marco Polo Airport.
Routes and lines
Alilaguna has six different lines that connect Marco Polo Airport and the port of Venice with the city center and with the following islands: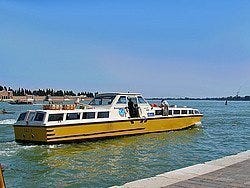 Alilaguna
Blue line: Connects the Airport and the Venice Cruise Terminal.
Orange line: Runs from Marco Polo Airport to Piazza San Marco.
Red line: Connects Marco Polo Airport to Lido. It only runs from April until October.
Yellow line: Connects Fondamenta Nuove with Murano, Punta Sabbioni and Treporti. This route only runs in July and August.
Schedule and frequency
Alilaguna's water buses run long hours: The first morning boat leaves the airport at 6:10 am and the last departs at 12:15 am (midnight). From Piazza San Marco, water buses weigh anchor from 3:40 am until 10:35 pm.
The route from San Marco to the Airport takes 1 hour and 20 minutes. Since the journey is quite long, we recommend it only for those that leave with plenty of time (if you are heading to the Airport) or those who don't mind taking their time to get to the city center.
Tariffs 
A one-way ticket from the airport to the city center costs 15 euros.
A water bus from the airport to either the Marritima cruise terminal, Tronchetto or Punta Sabbioni costs 15 euros for a single journey or 27€ for a return ticket.