Basilica dei Santi Giovanni e Paolo
The basilica of Santi Giovanni e Paolo is the largest church in Venice and one of the most surprising. Inside you can find the tombs of 27 doges and some paintings from important artists.
Basilica dei Santi Giovanni e Paolo is the largest church in Venice, even bigger than Santa Maria Gloriosa dei Frari. The church's name translated into English is "Basilica of Saint John and Paul".
It was established by the Dominicans and it took nearly one century to build. It was finally consecrated on 12 November 1430. The Doge Jacopo Tiepolo had a vision in which he was told that part of his swampland was to be dedicated to God's preachers. Thus, he donated this part of his land to the Dominicans and it is where the church currently stands.
The interior
In the vast interior of the Basilica dei Sant Giovanni e Paolo are the tombs of 27 doges, which were buried in this majestic church. Among the nearly thirty mausoleums, we can underline the vaults of Alvise Mocenigo and Pietro Mocenigo, both with surprising sculptures that are much lavish than the rest.
The Basilica contains beautiful works of art by artists like Giovanni Bellini, Paolo Veronese or Giovanni Battista Piazzetta.
The church's exterior
In Campo Santi Giovanni e Paolo (Santi Giovanni e Paolo square), where the Basilica is located, you will also find other interesting things to see such as the Equestrian statue of Bartolomeo Colleoni by Verrocchio. Another spectacular building is the Scuola Grande di San Marco, which is currently a hospital.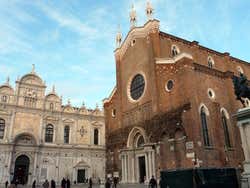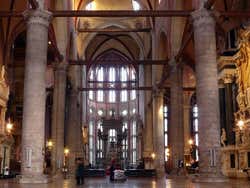 Schedule
Monday to Saturday: from 9 am until 6 pm.
Sunday: Noon until 6 pm.
Price
Adults: € 3.50 (US$ 3.80)
Students: € 1.50 (US$ 1.60)
Transport
Water Bus: Ospedale, lines 41, 42, 51 and 52.
A better option is to go to Rialto, lines 1 and 82 and walk from there