Cannaregio is the most populated district in which once lived great artists such as  Marco Polo, Titian​ and Tintoretto.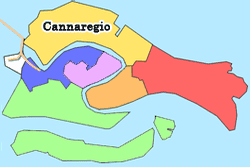 Cannaregio District
The neighbourhood of Cannaregio is in the northernmost part of Venice, located just above the Grand Canal. It is one of the largest and most populated sestieri.
This authentic and less touristy area is where several notable Italians have lived throughout the centuries, including Marco Polo, Titian and Tintoretto.
Things to do in Cannaregio
Cannaregio is home to the city's Jewish Neighbourhood. This quarter is one of the oldest in Europe and is extremely special with a melancholy atmosphere and several synagogues, some of which are open to the public. During Christmas, this part of the district is beautifully decorated to celebrate Hannukah.
A landmark which you shouldn't miss visiting in Cannaregio is the Ca d'Oro, one of the most stunning palaces in Venice, currently open to the public.