If you are a fan of Indiana Jones and have seen "Indiana Jones and the Last Crusade", you will enjoy visiting the church of San Barnaba, the setting of the imaginary Venecian library.
Who hasn't seen Indiana Jones and the Last Crusade? And who hasn't wished to see the film's original settings? All Indiana Jones fans most definitely have and many have dreamt of retracing the archaeologist's steps. Well, in Venice part of this dream can come true.
The Campo San Barnaba and the Church of St. Barnabas are shot in the scene where Indy meets Elsa when he descends from the vaporetto and she takes him to the library where his father disappeared. The library's façade is, in fact, the exterior of the Chiesa di San Barnaba.
The interior of the Church of San Barnaba is a normal looking and rather plain temple. It was built mid-eighteenth century, but its bell tower is one of the oldest in the city. It is no longer used as a church, but is used to contain exhibits.
The religious edifice is located in the Campo San Barnaba, which was also filmed in the Indiana Jones film. Less than 328 ft (100 meters) away from the square, you will find the Ponte dei Pugni, another of the city's most curious spots.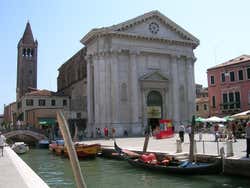 Schedule
Every day: 7:30 am until noon.
Transport
Water Bus: Ca´ Rezzonico, line 1.