Found on an island bearing the same name, the Basilica de San Giorgio Maggiore is one of the most photographed images of Venice. From here you can get some magnificent views of the main island.
San Giorgio Maggiore is one of the most photographed basilicas in Venice. The travellers standing in Piazza San Marco looking over the canal will be stunned by the temple's façade with the gondolas swaying in the Lagoon in front of it.
The construction of the Basilica was completed in 1576 and the architect, Andrea Palladio, also designed the neighbouring church, Il Redentore.
Inside San Giorgio Maggiore
Behind the Basilica's façade, which is made of brilliant marble, is a meticulous interior which gives the impression of spaciousness. The church's three floors contain various paintings by Tintoretto.
As well as the paintings by this great artist (The Last Supper, the Entombment of Christ and The Fall of Manna), the Basilica also features a painting by Sebastiano Ricci, "Madonna enthroned with Saints", completed in 1708. This retable is considered the masterpiece of San Giorgio Maggiore.
Climbing to the top of the bell tower
To get a superb view of Venice, we recommend climbing to the top of the Basilica's Campanile (Campanile di San Giorgio Maggiore). It is almost as high as the Campanile di San Marco and you won't have to worry about climbing the stairs, since you can only access the observation deck by elevator.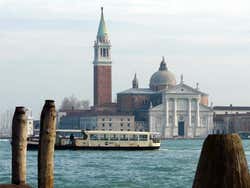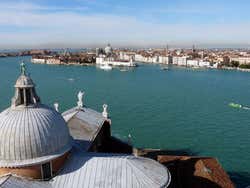 Schedule
April – October: daily from 9 am until 7 pm
November – March: daily from 8:30 am until 6 pm.
Price
Free entrance
Campanile: € 6 (US$ 6.40)
Transport
Water Bus: San Giorgio, lines 2 and N.