The Lido is the closest island to Venice and one of the most famous summer destinations in Italy. You can visit it to go to the beach, or to the casino.
Lido di Venezia, also known as Lido, is a small island with over 7 miles (12 km) of beach. It is one of the most popular summer holiday destinations in the north of Italy. It is situated to the east of Venice and is only 10 minutes away by Water Bus.
Lido is rather more "ordinary" than Venice: there are houses, hotels, streets, cars and buses. It is slightly similar to the Spanish Levante.
During the first half of the twentieth century, Lido di Venezia was a very popular summer holiday island in all of Europe, and the beach was visited by well-known writers and artists. In the last years, it has become a very crowded area in the summer months. However, if you would like to sunbathe a little during your holidays in Venice, we recommend visiting Lido. The busiest season begins in July and ends late September.
Venice Film Festival
The first film festival in the world, the Venice Film Festival, takes place on the island of Lido. The annual festival takes place at the end of August and beginning of September.
Venice Casino
If you are feeling lucky and are appropriately dressed you can spend an evening in Lido's Casino.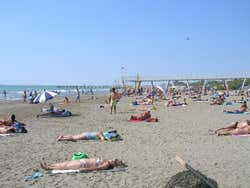 Transport
Water bus: lines 1, 2, 51,52, 62, N and LN.