Venice Carnival
The Carnival of Venice is unique in the world. It dates back to the eleventh century, when the Venetian population gathered in the streets to dance and celebrate a victory against the Patriarch of Aquileia. Nevertheless, the festivity wasn't made official until two centuries later.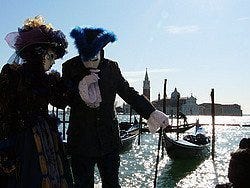 Venice Carnival 2009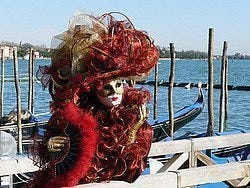 Venice Carnival 2009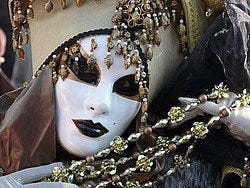 Venice Carnival 2009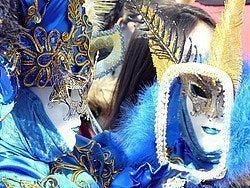 Carnival of Venice 2009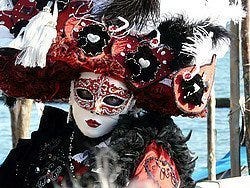 Venice Carnival 2009
Venice Carnival became extremely popular during the eighteenth century, when aristocrats from all over the world would attend the annual festival. The royal families and nobility of other neighboring countries would also come and dress up with elaborate masks and costumes.
During centuries, it was one of the only ways the citizens could escape from the control of the Venetian government. When Napoleon invaded Venice, the Carnival was banned for fear of the citizens conspiring against the French troops. The festival was not to come back officially until the Italian government decided to promote the Venetian culture and history in 1979.
How does it work?
The Carnival of Venice is very different to the typical carnivals that take place in Spain or in Brazil. The celebration takes place during ten days in which people dress up and take part in organized parades or simple processions on the street.
The costumes are seventeenth-century Venetian dresses, very much like if they were from a painting by Canaletto.
Numerous events and balls are organized during this period. Some of which are private and thus, difficult to access, unless you know someone who can invite you. If the parties aren't private, then they are expensive and entrance tickets will cost you about 500 €.
Does everyone dress up?
Most tourists do not dress up during the Carnival. They prefer to walk around enjoying the costumes and elaborate masks, although some wear masks, which they have bought from the many street stands in the city.
The general idea is for tourists to walk around the city and take photos of the best costumes and most impressive masks. There are those, of course, that go to Venice and hire beautiful attires for the occasion.
Venice Carnival Weather Averages
The Carnavale normally takes place between late January and mid-February. Since Venice is so close to the Alpes, it is usually very chilly, so we recommend you bring a nice warm coat.
It can sometimes snow, so make sure to bring a hat, gloves, a scarf and a good overcoat.
Venice Carnival 2017
The Carnival of Venice 2017 will take place from 18 until 28 February.
Like every year, if you are thinking of visiting Venice during this week, you will need to book your flights and hotel as soon as possible. The city is quickly packed during this period.
Photos
Click on the following link if you would like to check out the photos we took during the Venice Carnival of 2009 and discover the best costumes and masks.