Best Souvenirs from Venice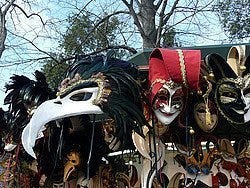 Venetian Masks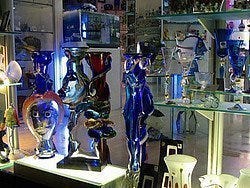 Window display of Murano glass
Venice has numerous traditional objects and items that make great presents and souvenirs for family and friends. The city is also full of souvenir shops, so it shouldn't be difficult to find the ideal present. We have selected a list of the most popular objects from this region to help you in your decision making:  
Masks
It is rare for visitors not to buy at least one Venetian mask, even if it's a miniature version. These are beautifully decorated and are not too expensive. You can find wearable masks for 15 euros. The miniature masks cost approximately 10 euros.
A curious fact: the store that designed the masks for the film Eyes Wide Shut is located near the Rialto Bridge.
Murano Glass
The two islands, Venice and Murano, are packed with Murano glasswork souvenir shops. Glass-making has been the primary industry in Murano since the thirteenth century.
Some believe that it is best to buy these glass-made souvenirs in Murano, but we didn't see any difference in price or design between Venice and Murano.
If you are a fan of glass objects, you can see Venetian glass being made by artisans in the Murano Glass factories and you can also visit the Glass island museum.  
Costumes
With such a deep-rooted tradition of dressing up during Carnival, Venice has numerous costume shops. If you have come with a large suitcase, have enough money and like dressing up, why not purchase a costume?

Puppets
Although less important than in Prague, Venice has a tradition in puppet making. You will find beautifully crafted puppets in this city. It is common for the mask shops to also sell puppets.
Pasta and various sauces
Pasta exists in all shapes and sizes, colours and flavours. In Venice, you will be able to find any type of pasta. A package costs between 3€ to 4€. There are also numerous sauces that are very good.