Santa Maria Gloriosa dei Frari
Santa María Gloriosa dei Frari, commonly known as los Frari, is in our opinion the most impressive church in Venice, its unassuming exterior hiding a majestic interior.
The Basilica di Santa Maria Gloriosa dei Frari is one of the largest churches in Venice, and is only surpassed by the Basilica dei Santi Giovanni e Paolo.
The Basilica is commonly known as the Frari. It's plain and expressionless exterior contrasts with its majestic interior. The construction of the church took nearly one hundred years to build and was completed in the mid-fifteenth century. Its bell tower dates from the fourteenth century and is the second tallest campanile in Venice.
Points of interest
The highlight of the Basilica and what will draw your attention as soon as you walk into the temple is a painting by Titian called "Assumption of the Virgin". It is situated in the main altar surrounded by stained glass windows.
Other points of interest include the tomb dedicated to Antonio Canova (Canova was an eighteenth century Italian sculptor). The burial monument was built by the artist's students. It will surprise the Basilica's visitors for its monumental size, its sculptures and its shape since it was built like a pyramid. 
The choir chapel contains beautiful paintings by Vivarini and Bellini.
Our opinion
The Basilica di Santa Maria Gloriosa dei Frari is one of the most surprising churches in Venice. Its architecture, number of sculptures and artwork that it contains make it one of the top attractions in Venice and well worth visiting.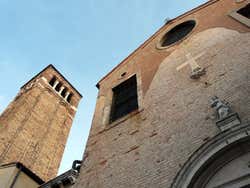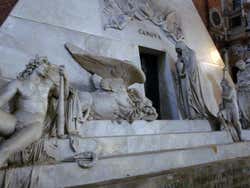 Schedule
Every day: from 9 am until 6 pm.
Sundays: 1 pm until 6 pm.
Price
Adults: € 3 (US$ 3.20)
Students under 30: € 1.50 (US$ 1.60)
children under 11: free entry
Chorus Pass: free entry
Transport
Water Bus: S.Tomà, lines 1, 2 and N.