The Basilica of Santa Maria della Salute is one of the best known in Venice, whose dome is visible from all over the city. It was constructed to celebrate the end of the plague in 1631.
Santa María della Salute is one of the most important religious buildings in Venice. Its striking dome is depicted in most of the city's postcards.
Salute, as it is commonly known, was founded in 1631. The basilica was built to commemorate the end of a terrible outbreak of the plague that began in 1630, and killed a large portion of the Veneto population. It was dedicated to Our Lady of Health (Salute in Italian).
The architect, Baldassare Longhena, was commissioned to design the church and had also been responsible for the construction of the Ca' Rezzonico. Santa Maria della Salute took 56 years to build and was completed in 1687.
Decoration
The Basilica's interior is octagonal with small chapels on each side of the building. Although the church's decoration is quite plain, there are several impressive paintings by Titian and Tintoretto.
The most magnificent canvas is called "Marriage at Cana" by Tintoretto. It is located in the sacristy.
Festa della Madonna della Salute
Every 21 November, the Venetians celebrate the Feast of the Presentation of the Virgin (Festa della Madonna della Salute). It is one of the most popular festivals in Venice. It involves crossing an improvised bridge over the Grand Canal to the Salute Basilica in recognition of freeing Venice from the plague.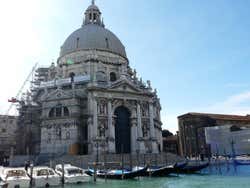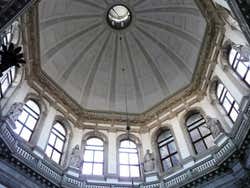 Schedule
Every day: from 9:30 am until noon and from 3 pm until 5:30 pm
Price
Entry to the basilica: Free.
Entry to the sacristy:
Adults: € 4 (US$ 4.30) 
Students: € 2 (US$ 2.10)
Transport
Water Bus: Salute, line 1.