Venezia Santa Lucia Railway Station
Venezia Santa Lucia Railway Station is Venice's central train station. The railway station connects Venice with other principle Italian cities.
Venezia Santa Lucia railway station is Venice's central train station. Since it is so close to the city center, it is the easiest and most comfortable way of traveling to other cities in Italy such as Rome or Florence.
You can get to Padua from Santa Lucia in 30 minutes, to Verona in 60 minutes and to Milan in two hours, to mention a few destinations. There are also trains to nearby countries like Slovenia. Many travelers that want to visit Ljubljana fly first to Venice and from there take the train or drive to Slovenia's capital city.
Santa Lucia is one of the largest train stations in Italy. It has so many tracks that we recommend arriving at least half an hour prior to your scheduled departure as not to get lost and miss your train.
Keep in mind that in Italy you have to validate your ticket before getting on the train. To do so, there are various yellow validating machines in the station. If you do not validate the ticket, you risk getting fined.
Ferrovia
The railway station's water bus stop is called Ferrovia. It is located just in front of the station and connects the various islands with Santa Lucia, as well as the main vaporetto lines to several parts of Venice.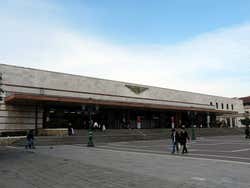 Transport
Water bus: Ferrovia, lines 1, 2, 41, 42, 51, 52, N and DM.