Livio de Marchi, also known as the Carpenter of Venice, is one of the most unusual artists in Venice.
After studying art and drawing at the Royal Academy of Fine Arts in Venice, Livio de Marchi took an interest in sculpture, and after having tried various types of materials, he decided to focus on wood, which became his favourite element.   
In 1985 he successfully navigated a paper boat shaped wooden boat in the canals of Venice. Since then, he has let his fantasy run free and has built more and more eccentric objects to sail on the Venetian canals, from an enormous vase to a Vintage car. His latest creation was a Ferrari F50, which was propelled by a motor. The car includes all the details of an actual sports car.
If you would like to see some of the artist's carvings, you can visit his gallery. If you are lucky, you might even see Livio working on his next sculpture. He is welcoming and will personally show you his current collection of sculptures.
We recommend checking out a video of de Marchi's Ferrari F50 sculpture.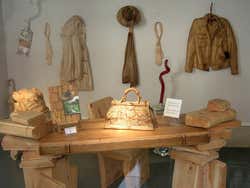 Schedule
Monday – Friday: from 9 am until noon and from 2 pm until 6 pm
Transport
Ten minutes' walk from Piazza San Marco