Dorsoduro is a lively neighbourhood where you can find the majority of the city's university buildings.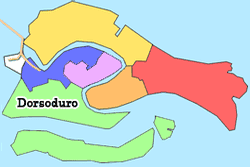 Dorsoduro District
Dorsoduro is located in the southeast part of Venice and includes Giudecca island. The name of this sestiere in Italian comes from the words "osso duro", which means hard bone, in reference to the harder soil in this part of the city and because it is also on higher ground than the rest of the city's neighbourhoods.
This neighbourhood is home to the University of Venice, and is where most students prefer to live. Packed with young people, this district has become a cool, artsy, lively and trendy area.
Things to do in Dorsoduro
Two of the most important art galleries are housed in Dorsoduro: the Gallerie dell'Accademia and the Peggy Guggenheim Collection.
Santa Maria della Salute, one of the most important churches in Venice, is also situated in this sestiere. Every 21 November, the Venetians organize the Festa della Salute in this church. This religious festival celebrates the end of the plague in 1631.
Another impressive church in Dorsoduro is called San Sebastiano.
Overlooking the Grand Canal is Ca' Rezzonico, one of the most beautiful palazzos in Venice. If you have time to explore this district, we suggest heading towards Campo Santa Margherita, one of the liveliest and most enjoyable squares both in the day and at night.