Ponte dei Pugni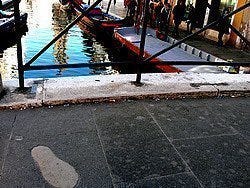 Footsteps on Ponte dei Pugni
The Ponte dei Pugni is one of the most famous bridges in Venice thanks to its curious history.
The Bridge of Fists isn't the biggest bridge in Venice, nor is it particularly striking, nor does it cross the Grand Canal. It is actually renowned because during many generations, rival clans in Venice, particularly the Nicolotti and the Castellani, would meet in the middle of the bridge and fight with their fists. The tradition was for the winner to throw his opponent into the cold and dirty canal, since the bridge didn't have railings. 
These fist fights were outlawed in 1705 because of their extreme violence. On the bridge, you will be able to see the marks on the floor of where each clan had to place themselves.
Next to the Ponte dei Pugni you will see a large boat that sells fruit and vegetables, a pretty an unusual sight.
Very near the bridge is the Church of San Barnaba - The Library of Indiana Jones, which is definitely worth visiting if you are fans of one of the cinema's most famous characters.
Location
Fondamenta Gherardini, Dorsoduro.
Transport
Water Bus: Ca´Rezzonico, line 1.
Map
Hotels nearby