Opening Hours in Venice
Opening hours in Venice are somewhat limited and most of the stores close at noon and reopen in the afternoon. Nevertheless, you will have enough time between visits to buy some of Venice's best souvenirs.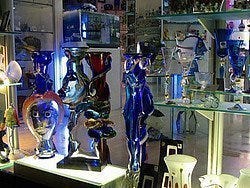 Window display of Murano glass
Stores
Most stores in Venice are open from Monday to Saturday from 8:30 am until 12:30 pm and from 3:30 pm until 7:30 pm.
Many shops are closed on Monday mornings.
Tourist attractions
Although the museum's opening hours in Venice can vary, most of the monuments and top attractions open at 9 am and close between 5 pm and 8 pm.
Almost all museums, churches and other points of interest open daily.