Piazza San Marco is the city's main public square and contains its most famous buildings such as St Mark's Basilica and the Doge's Palace. Napoleon called it "the world's most beautiful drawing room".
Piazza San Marco is in the heart of Venice. It is 590 ft (180 m) long and 230 ft (70 m) wide, and is the only "piazza" in Venice, since the rest of the squares are called "piazzales" or "campos".
It was established during the ninth century, but adopted its current size and form in 1177, and was paved one hundred years later.
The Piazza San Marco is one of the most beautiful in the world. Napoleon called it "the world's most beautiful drawing room".
It is the lowest point in Venice; therefore, when there is Acqua Alta, it is the first place to be flooded. When this happens, the authorities place wooden footbridges for the locals and tourists. Several times a year, the square is completely flooded, so depending on whether you want to experience the Acqua Alta, you might be lucky or not, depending on when you visit the city.
Top attractions
The most famous buildings in the piazza are: St Mark's Basilica, the Doge's Palace, the Museo Correr and the Campanile (the Basilica's bell tower) and the Torre dell' Orologio.
In the Renaissance-style top balcony of the Torre dell' Orologio (Clock Tower), two bronze figures representing Moors strike the hour. During Ascension week and Epiphany, statues of the Three Wise Men emerge from the clock tower and are presided over by an angel every time the little figures strike the hour. A real treat for all visitors.
It is also worth highlighting the Columns of Saint Mark and Saint Theodore. The two columns are made of granite and marble and were placed near the entrance of the square in 1172. During the eighteenth century, public executions were held between the two pillars.
Nightlife
The square comes to life at dusk when the weather is warm enough. If you are in Venice during spring or summer, it is worth walking through the piazza among the renowned cafés, listening to the various bands playing live music.
If you are not on a tight budget, you can also have something in the Caffè Florian, one of the oldest bars in Italy. It dates back to 1720 and for the past one hundred years, the bar offers live music to its customers. The only negative aspect is that the cheapest drink is approximately € 10 (US$ 10.70).
The rules of Piazza San Marco
It is forbidden to eat and drink in the Piazza San Marco. You are not allowed to throw rubbish or give the pigeons food. If you would like to eat near the square, we suggest heading to the Giardini ex Reali, a very pleasant garden nearby.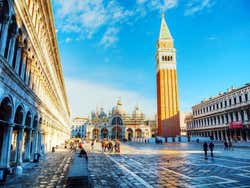 Transport
Water Bus: San Zaccaria or San Marco, lines 1, 2, 41, 42, 51, 52, N and LN.