The district created around the Rialto Bridge is one of the most beautiful in all Venice.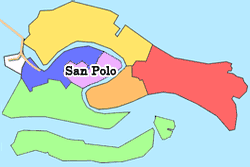 Distrito de San Polo
The sestiere San Polo was founded in the surroundings of the ancient Rialto Bridge. The city's first inhabitants believed it to be a good location to settle in since the land was higher and never flooded.
Situated in the centre of Venice, San Polo is the smallest of the six districts, as well as one of the oldest. Venice's central market was established in 1097 in the area and still exists to this day. San Polo is currently one of the liveliest areas in Venice, packed with stores, markets and top attractions.
Things to do in San Polo
The western part of the neighbourhood is known for its remarkable churches. While the east side of the district houses striking palazzos.
Some of the best things to do in San Polo include visiting the Basilica di Santa Maria Gloriosa dei Frari, the Scuola Grande di San Rocco but, above all, crossing the Rialto Bridge.