The Rialto Bridge is the oldest bridge in Venice, and without a doubt, the most renowned. Every year millions of tourists cross it.
The Rialto Bridge is the oldest of the four bridges to cross the Grand Canal of Venice. It is also the most famous in Venice thanks to its peculiar history and design. For many years, the overpass was the most important financial centre in Venice.
The present Ponte di Rialto was built in stone between 1588 and 1591 by Antonio da Ponte to substitute a wooden bridge which had collapsed in two occasions and had been partially burnt down in 1310.
The design of the stone bridge is similar to its predecessors with two inclined ramps that are connected by an arch in the middle.
Any hour is good to visit the Rialto Bridge. We even recommend crossing the bridge at different times of the day to see the Grand Canal in all its splendour and like the rest of the crowd on the bridge, try and take a photo of the remarkable Venice lying below.  
Rialto Market
If you pass over the bridge from Piazza San Marco you will come across the Rialto Market, a colourful market packed with delicious looking fruit and vegetable. It also includes a fish market. If you visit Venice in summer you will surely be tempted by the trays of fresh fruit on sale in some of the market's stands.
The Rialto Market opens daily from 9 am until noon on the Campo della Pescheria and its surrounding streets.
Venice's market already existed in exactly the same location in 1097. The name "Rivoaltus" means solid ground that is never flooded. In 1514, a fire devastated most of Rialto and this is why the central area of Venice's buildings date from the sixteenth century. The market's smaller streets are named after various guilds.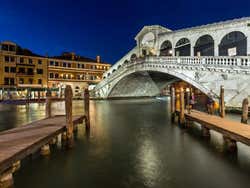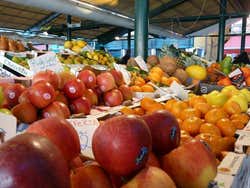 Transport
Water Bus: Rialto, lines 1, 2 and N.