San Marco is the smallest district in Venice and bears the name of the patron saint of the city. It is one of the most touristy areas of Venice, and can sometimes can get quite crowded.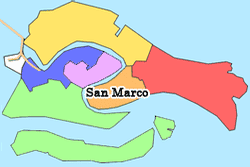 San Marco District
The neighborhood of San Marco is named after the patron saint of the city. It is without a doubt the heart of Venice and although it is one of the smallest sestieri, it houses most of the city's landmarks.
It is the most popular tourist area and during certain seasons, especially during the summer months, the area can become a little oppressive. But, nevertheless, it is still one of the most charming districts.
Things to do in San Marco
Piazza San Marco is the sestiere's center. This square houses important landmarks like St. Mark's Campanile and St. Mark's Basilica.
The Doge's Palace is another monument which is not to be missed in San Marco. During your visit, you will get to cross the Bridge of Sighs, one of Venice's most well-known bridges.
If you're looking for a good museum in this district, we recommend visiting the Museo Correr, which contains objects and works of art that reflect the Venetian culture and history. It is one of the city's most famous museums and well worth exploring.
Despite containing numerous things to see, this neighborhood's most attractive attribute are its small and narrow alleyways that are very often accompanied by small winding canals. Going for a stroll in San Marco is extremely enjoyable, where you will breathe in the Venetian atmosphere.