Venice Water Bus Services
One of the ingredients that makes Venice so magical is that it is surrounded by water. Although the city has "normal four-wheeled" buses, in the heart of the city the easiest way to get around is using the canals. Taxis, ambulances and police cars in Venice are all waterborne, as are the water buses called vaporetto in Italian.
In the city center, the vaporettos replace the urban buses. Compared to the land buses, the water buses are romantic and have a certain je ne sais quoi that can only be found in Venice.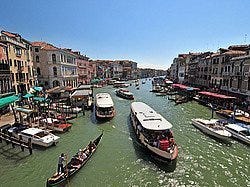 Water Buses from the Rialto Bridge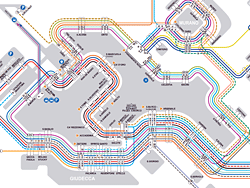 Vaporetto Map in Venice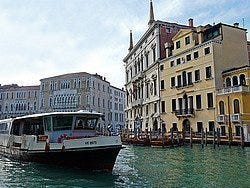 Water Bus traveling on the Grand Canal
Main Vaporetto lines
The most useful water bus lines for tourists are the following:
Tariffs
A single-journey that is valid for 60 minutes costs 7 euros. Depending on where you are staying and how many times you think you might be taking the city's transportation, you might want to purchase the Tourist Travel Card.
If you only need to get across the Grand Canal using Line 1 or need to take the city's transportation for one stop, you can purchase a ticket for 4 euros. However, we recommend getting a traghetto instead, as it is cheaper.
Schedule
Usually, most lines that serve Venice run from 4:30 am until 12:30 am (midnight).