Venice Traghetti
Traghetti are large gondolas that are used by locals and tourists to cross the Grand Canal, especially where the Canal isn't connected by any of its four bridges. Traghetti or traghetto (singular) means ferry in Italian.
An inexpensive option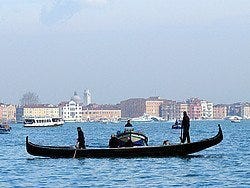 Traghetto crossing the Grand Canal
The price to cross the Grand Canal is 50 cents, the perfect alternative to a gondola if you are traveling on a budget. You will even be able to take a photo of the two gondoliers that steer the traghetto, so as not to miss out on any experience.
Schedule
Note that the traghetti are designed for the Venetian workers, so they only run certain times a day and some do not run during the weekends.
Where to get a traghetto?
Click here to see a map of where you can catch a traghetto.